October 10, 2006

It's official-Final Chapter

The day of the wedding HHhubby and I woke up and ordered in some room service. Surprisingly enough, I seemed to have all my faculties about me. The cuckoo birds were flying over someone else's nest.

We were to be at the shuttle depot early to arrive at the estate for the wedding. As we headed off the boat, we saw the rest of the group. There were about 50 of us.

We cruised over to the estate which is a 10 mile drive. It was relaxing as we drove through the different areas of Mexico. We saw a lot of abandon cars and blighted areas and family owned stores. Dogs sitting in front guarding or resting in front of their owners stores.
As we reached our desitation it was like entering another world. The location was beautiful. As we pulled in the small tiled driveway, our bus almost lost both sides of some paint as we tried to fit through a tiny driveway. In the end the driver made his way through which amazed me.

We were greated with coffee, juice and pastries. The most delicious fresh fruit. Big oversized leather ottomans, music and sun and a view that you could look at your whole life.
This place was amazing.
The rituals took place on one patio over looking the ocean. I have never experienced a vows and such of this religion it was beautiful and I love their rituals. The bride was beaming and the groom was modestly pleased.

After the wedding we made our way to a cocktail hour, served with the most perfect bite sized snacks, shirmp, oysters. Then to the pool area for lunch, cake , drinking and dancing. This was one of the most beautiful weddings I have been a part of. I only wished we could have stayed longer. The estate was breath taking.
*
If you recall my camera got wet and hence I'm having a hard time downloading, my photos. So I stole these from C the bride's friend.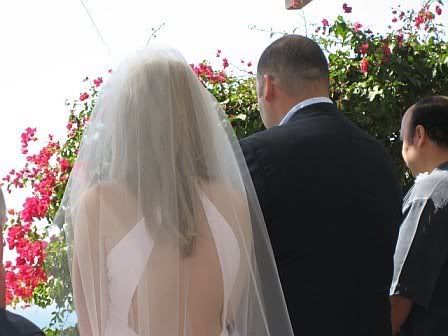 I love this photo- I do's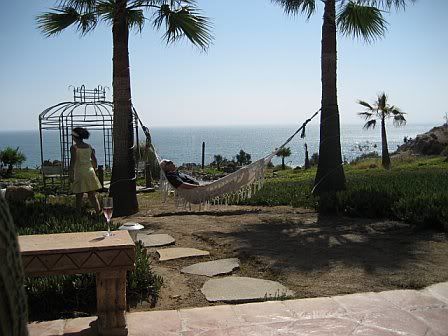 Groom's father catching some shut eye


D a friend of the groom. I love this patio. You have to love Mexico. Our favors were flasks and the bartenders filled each one with a little something!

The trip was great and I had some much fun just hanging out in the Bride/Groom suite, talking and drinking. This was a great group of people and we can't wait to get together again.
email is fun
the latest
old school
blogs that make me smile
the rings
credits